The ZIP code (in Italy CAP) is the system used by the national postal service of Italy to encode the addresses of correspondence in Italy. The acronym CAP stands for Codice di Avviamento Postale and indicates the Italian postal code composed by 5 digits.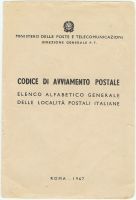 ZIP Code book - 1967
The use of the Postal Code was introduced on 1st July 1967 to facilitate the work of sorting mail and cope with the huge growth of postal traffic. To the right side an image of the first edition of the ZIP code book from 1967.
A total of 41 Italian cities are now divided into Postcode Areas, ZIP codes must be indicated for different streetnames and street number. For those cities you should always indicate the specific ZIP code, associated with the single street address.
The first 27 cities that were to be divided into postcode areas are: Ancona, Bari, Bergamo, Bologna, Brescia, Cagliari, Catania, Florence, Genoa, La Spezia, Livorno, Messina, Milan, Naples, Padua, Palermo, Perugia, Pescara, Pisa, Reggio Calabria, Rome, Salerno, Trieste, Turin, Venice, Verbania, Verona.
The following 14 cities were divided into postcode areas from March 27, 2009: Alessandria, Cesena, Ferrara, Foggia, Forlì, Modena, Parma, Pesaro, Piacenza, Ravenna, Reggio Emilia, Rimini, Taranto, Trento.
Important ZIP Codes updates
In September 2006, the ZIP Code database underwent through major changes.
New ZIP codes have been assigned to 8 cities (Bari, Perugia, Pisa, Reggio Calabria, Rome, Trieste, Venice and Verona) and the following ZIP codes were deleted: 19138-19139 (La Spezia), 98159 (Messina), 90132 (Palermo), 65131-65132 (Pescara) and 30131 (Venice). ZIP codes were completely changed in about 10% of all streets.
Other changes concerned the ZIP codes of 79 municipalities while those of some 2,400 Towns have been replaced with the ZIP codes of the municipality, they belong to.
The reorganization of March 2009 led to 14 other cities (Alessandria, Cesena, Ferrara, Foggia, Forlì, Modena, Parma, Pesaro, Piacenza, Ravenna, Reggio Emilia, Rimini, Taranto, Trento) to abandon the use of only one zip code by adopting different Postcode Areas in the same city.
How to write the postal code on addresses
The correct specification of the address on a letter assures a faster delivery, as it will allow automatic sorting by the optical scanning systems of the Post Sorting Centres (Centri di Meccanizzazione Postale or CMP).
The address must contain three to five rows, and only if it relates to a foreign country, may have an additional sixth line. The figure below is a schematic example of the address.

Lines 1, 4 and 5 are required and must contain the recipient's name, address and place of destination (zip code, city and two-letter province code).
Line 2 is optional and must be used only to indicate additional information about the recipient.
Line 3 is optional and is used to indicate additional information about the building.
Line 6 is required only if the address refers to a foreign country.
In cases where the recipient is entitled to a PO Box the used zip code must be the one of the recipient's post office.
Curiosity
I numeri civici di Firenze sono rosso-blu mentre quelli di Genova sono rosso-neri. Le motivazioni sono storiche e dovute alla scelta di assegnare colorazioni diverse alle abitazioni residenziali ed alle attività commerciali. Per cui occorre fare attenzione perché un numero civico di una strada può essere presente due volte con due colori diversi.
Ecco due esempi: Via Argine Polcevera a Genova e Viale Matteotti a Firenze.